FileBoss allows you to save the current tab layout to a file so that it can be recalled at any time. For instance if you have a set of tabs and tab groups that you like to use whenever you are working with you photo collection you can save that layout to disk and then, when you want to work on your photo collection again, just reload the tab layout. You can also assign tab layouts to shortcuts so that when the shortcut is clicked FileBoss will load with that specific layout no matter.
Saving the current layout for future use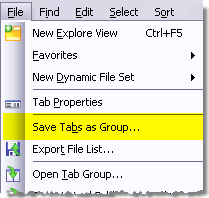 Saving the current tab layout for later use is as simple as:
using the File > Save Tabs as Group... command from the main menu
selecting a file name (or selecting an existing file) in the File Save dialog
clicking the OK button
The default folder for saving tab groups is in My Documents\FileBoss Data but you can use any folder you want.
Loading a saved layout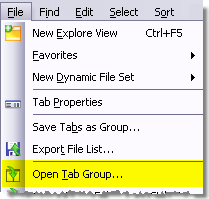 To load a layout:
use the File > Open Tab Group... command from the main menu
select a file in the File Open dialog.
click the OK button
Opening a layout from a shortcut (link)
To create a shortcut that will always open FileBoss to saved layout:
first create a shortcut to FileBoss (or just make a copy of the current one on the desktop or start menu).
then right-click over the shortcut to bring up the properties dialog
add the full path to the layout file (the extension will be fbwins) at the end of the entry in the Target field - enclosed in quotation marks - as shown below
In the case shown below a layout was previously saved as C:\a.fbwins and this what has been entered as a parameter in the Target Field.