How to Load a Virtual Folder from a File
This function allows loading a list of files and / or folders into a Virtual Folder where they can be managed just as if they were the results of a search, i.e. rename, delete and copy.
And you can specify options whether or not you want FileBoss to validate the existence of the files whether FileBoss should create a navigation structure (add folders) to the list.
Create the text file
Create a plain ASCII text file with one file to a line with its full path, e.g.

\\corpnet\backup\user files\london\expense.doc
\\corpnet\backup\user files\london\notes.doc
\\corpnet\backup\user files\london\ideas.doc
...
The entries can be in any order and folders need not be entered unless they are expressly needed.
Open the Import from Text File Dialog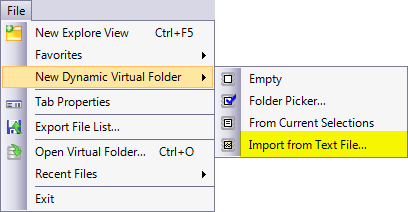 Press Alt+F, D, I
Or select File > New Dynamic File Set > Import from Text File... from the main menu
Supply the input file and any options
Enter or Browse for the input file
Browse for the file you want to input using the 'Browse' button and then press the OK button. FileBoss will then read the text file and load each file into a Dynamic File Set.
Don't Validate Files
If the Don't Validate Files box is checked FileBoss will check each entry for existence and if an entry in the text file can't be found FileBoss will display it in red. If there are many network entries that can't be found FileBoss will take quite sometime as checking for missing files on a network is very time consuming.
Create Navigation Structure
When the Create Navigation Structure box is checked FileBoss will attempt to create a file structure for the files. But if the imported files are pretty much at random, file structure wise, the structure FileBoss creates may be quite ugly..
Once the entries are loaded successfully you can manage them with all of FileBoss's tools just the same as in any other view.