Just Select and Rename
To rename multiple files is now as simple as select and rename.
And if you want to rename files in more than one folder you can rename recursively down subfolders or across a group of folders or even across across multiple drives using FileBoss's powerful search routines and the resulting Virtual Folders
To Rename files in Multiple folders:
Collect the group of files and folders to be renamed

Select the files (and or folders) to rename

Choose one of the flexible, powerful renaming methods

Do it.
Collect the Set of Files to Rename in Bulk
Use one for the Find functions
The results of any find function is a File Set allowing you to work on files in multiple folders (and even drives) together.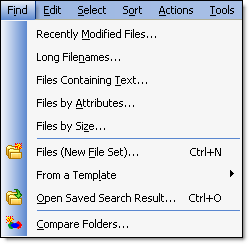 -- or --
Create a File Set containing all (or part of) the files and subfolders
Simply select a top-level folder and then click the Create File Set button. The resulting File Set allows you to work on files in multiple folders (and even drives) together.
Select the Files to Rename
In the following example we have selected nine files in three folders. The graphic below is from a virtual File Set created by FileBoss from a search. Using File Sets allows adding folder names to thousands of files at once. Of course the same can be done with files selected in a normal Explore View.
Select the Rename Command
Selecting the general rename options will display all the rename panels in a tabbed format.