Whether you want to add sequential numbers, change case, change extensions, remove or convert spaces, add folder names or each file's time to its name FileBoss has a quick and easy routine for doing so. And whether you are renaming files just a few at a time or batch rename by the thousands the routines work exactly the same.
How to change filenames to upper, lower, or word cap
1) Select the files you want to rename
In the following example we have selected a group of folders that need to set to lower case. (And at the same time we will change any spaces in the filenames to underscores).
2) Select Actions > Rename... from the main menu
If you want to repeat the last renaming operation on the currently selected files or folders you can simply select Rename. Again.. or press Ctrl+Alt+R start renaming immediately using the previous rename parameters.
The Quick Rename... command will simply present each of the selected files to you one at a time in a small dialog so that you can rename them individually. This is much easier, quicker and safer than renaming a bunch of files inline, i.e. by pressing F2 for each name.
3) Select the Change Case tab
The display below shows all the tabs used for renaming files. It is important to remember that when the OK button is pressed only the settings in the current tab - in this case the Transform tab - will be used to rename the files.
Click on the Transform tab it is not already selected.
Select Lower Case in both the Change Names and Change Extensions groups
Optionally select the Change to _ button in the Change Spaces group.
4) Confirm the renamed files
After pressing the OK button in the above step, FileBoss will find the first file to be renamed and display a confirmation dialog similar to the one below.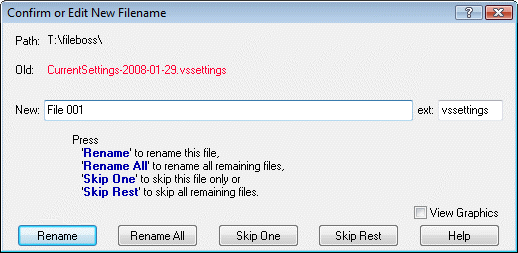 You can continue to rename or skip each file individually or at any time you can Rename All the rest of the files or Skip Rest thus ending the renaming.
Note that you can edit the new name anyway you like and then press the Rename button giving you total control over how the file is named.
5) See the results of the files being set to lower case
When FileBoss has finished renaming the files the new names will appear immediately in the Contents window.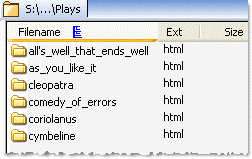 Other options
If the selections had been changed to Word Cap for Change Names and Remove for Convert Spaces the result would have been as is displayed below.