Overview
FileBoss can have thirty-six different configurations in addition to the default configuration. (A configuration consists of the menu and toolbar configurations, which tabs are present, dialog settings and all other settings and options.)
Saving Current Configuration to a Profile
When you would like to save the FileBoss's current configuration (the toolbars, open tabs and all other settings and options use the Options > Set Special Profile... command from the main menu. Use the drop down list box to select any number or letter to identify the profile (0-9 and A-Z).
After the profile has been changed all settings, including toolbar layout and the tabs will be saved to the new profile when FileBoss exits.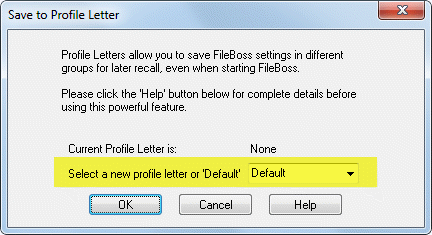 Starting using a Different Profile
Hold down the Ctrl key
Click on the FileBoss icon
Release the Ctrl key when the Startup Options dialog appears (If you do not see the Window below within a couple of seconds look for it on the task bar - its tab with the FileBoss logo will be there - and click on it.)
Set the profile you want to load and work in.
Click OK to start FileBoss
Selecting any option other than Normally will force FileBoss to display the Exit Options dialog described below. This prevents your current options and settings from being lost by mistake.

Setting up a Profile Shortcut
To create another icon on the desktop for special profile you have created:
Click on the original icon

Press Ctrl-C to copy the shortcut

Press Ctrl-V to paste a duplicate icon on the desktop

Rename the new icon to something like FileBoss D

Right-click on the new icon and select the Shortcut tab

In the Target field add /profileD to the end of the line as shown below

Click OK
Seeing Current Profile Name
To see your current profile you can either use the use the Options > Set Special Profile... command from the main menu or look at the Program Status tab of the About box (Help > About FileBoss from the main ment)