Much More than a Simple Routine to Copy Filenames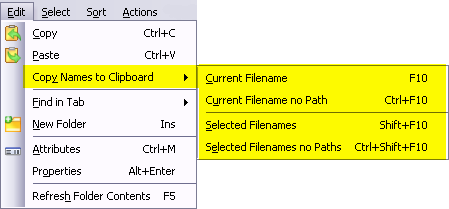 Copy filenames
(with or without their full path) to the clipboard in a format of your choosing.
One filename or thousands
with or without the full path, can be copied to the Windows Clipboard.
All Selected Names or Just the Current Name
can be copied. So you don't have to stop selecting files for some other operation just to copy one filename to the clipboard
Just the Name or the Name and Path
can be copied using different command and hot-keys. So you could copy to the clipboard just the text FileBoss.exe or C:\Program Files\FileBoss\FileBoss.exe.
The Format of the Copied Text is Up to You
since you can specify what comes before and after each name or group of names (such as quote marks and line feeds).
Complete logging of what names was copied and how
Thee Summary and Details panes of the Results window will show you exactly what was copied to the clipboard.
How
Controlling the Format of the Copied Filenames.
Use the Options > Program Options... command from the main menu and then select the Copy Filenames panel from the list on the left side. That will display the following options for copying file names to the clipboard.